1967 Charter Members
We don't know too much about the details surrounding how the small group of thirty-one (31) Wyoming ladies started the WSWGA back in 1967. From our historical records, however, we do have some notes and a newspaper clipping showing their photo (see below) where twenty-two (22) of them played in their very first annual tournament on July 25th, 26th and 27th, 1967 in Douglas, Wyoming.

If anyone has any updated information on any of these ladies, please let us know. We would love to hear from any of them who are still with us.
&nbsp
NAME
&nbsp
HOME TOWN
1
*Margaret Ainsworth
Riverton
2
*Elizabeth J (Lib) Bolln
Douglas
3
*Mary Kate (Kay) Copp
Douglas
4
*Virginia Curtin
Douglas
5
*Mary Dalton
Casper
6
*Pat Davis
Douglas
7
*Hail Fischer
Laramie
8
Irella Grable
Torrington
9
*Irene Guilford
Riverton
10
*Helen Guth
Torrington
11
*Hannah Guthrie
Laramie
12
*Eva Harris
Riverton
13
*Dorthy Hill
Riverton
14
*Ruth Irwin
Douglas
15
*Christine Knight
Laramie
16
*Edith Knisely
Douglas
17
*Betty Lovercheck
Torrington
18
*Mary Jo Mills
Big Horn
19
*Marjorie Moore
Buffalo
20
*Lucille Nelson
Douglas
21
Claire Pyle
Casper
22
*Victoria (Dolly) Ralston
Sheridan
23
*Margaret Rice
Laramie
24
*Merle Saul
Douglas
25
*Pen Schunk
Sheridan
26
Gen Seaverson
Rawlins
27
*Gertrude Stack
Riverton
28
*Antoinette Stoddard
Douglas
29
Margaret Sullivan
?
30
*Eula Thompson
Douglas
31
Opel Triplett
Casper

*Deceased - To the best of our knowledge.
---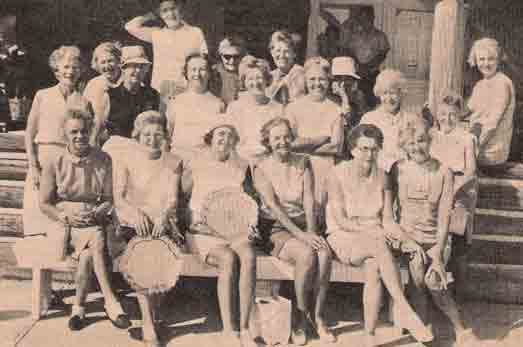 FIRST SENIOR WOMEN'S state Golf tournament, held in Douglas July 25-27 was a big success and shown here are most of the winners from over the state. &nbsp Front row (L to R): &nbsp Ruth Irwin (Douglas), Claire Pyle (Torrington), Gen Seaverson (Rawlins), Betty Lovercheck (Torrington), Kay Copp (Douglas), Edith Knisely (Douglas). &nbsp Second row: &nbsp Lib Bolin (Douglas), Dorothy Hill (Riverton), Chris Knight and Margaret Rice (Laramie), Irene Guilford (Riverton), Merle Saul (Douglas), and Hail Fisher (Laramie). &nbsp Back row: &nbsp Eula Thompson and Antoinette Stoddard (Douglas), Pen Schunk (Sheridan), Virginia Curtin (Douglas), Mary Jo Mills (Sheridan) and Peg Ainsworth (Riverton). &nbsp Winners not shown were Trella Grable and Helen Guth (Torrington) and Opal Triplett (Casper).