About Us

Last Updated: 7/28/2021 &nbsp
You are here: WSWGA Home > About Us > WSWGA Board Members
WSWGA Board Of Directors
The control and management of the Association and its affairs and property is entrusted to the Board of Directors currently consisting of the following seven (7) Members who are in good standing.

Each year at our annual meeting, we elect new board members to replace those whose terms have expired. Each new board member serves a three (3) year term. We encourage all member, who may be interested, to volunteer their services on our board.

Gayle A. Brice
President
367 Porto Road
Star Valley Ranch, WY 83127

(801) 726-4704
gbrice@wswga.org
Term Expires: 2022



Gayle joined the WSWGA in 2005 and was elected to the Board in 2016.

Gayle was born in Ogden, Utah and met her husband, Larry, at Weber State University. They married in 1969 while Larry was on leave during the Viet Nam War. They raised two boys and one daughter in Kaysville, Utah. On a whim, they decided to take up an offer for a weekend stay at the Star Valley RV Park. It was such a beautiful place, with clean country air and the people were so friendly, why would anyone want for more? They bought land on Star Valley Ranch in 1991 and built their retirement home in 1994. Raising their kids and full-time careers were their priority. Gayle spent most of her career teaching management development classes, developing curriculum and managing people. The family passion was skiing. Gayle taught skiing at Snow Basin Ski Resort and started their children skiing at the young age of 3.

When the children got older, several ladies at work decided to take golf lessons and join a ladies' golf association, thus starting her love of the game. While not an expert at the game, she keeps trying to improve her game. Gayle is involved with her local golf club in Star Valley, as well as Sun River Golf Club in St. George, Utah where they winter.

Gayle thoroughly enjoys her involvement with the WSWGA and meeting all of the wonderful women across the great State of Wyoming. She is thankful for the opportunity to serve as WSWGA President these past years and looks forward to meeting everyone personally.

Carol J. Butler
Vice-President
803 Meadow Lane
Cody, WY 82414

(307) 756-2405
cbutler@wswga.org
Term Expires: 2023




Carol grew up in Cody, Wyoming. In 1977 she married her husband Karl. They raised one daughter and a son. They had been members of Olive Glenn Country Club in Cody for quit some time, and once their son turned 9, Carol thought it was time to "get her monies worth from the monthly country club dues" Thus she started and learned how to play golf along side of her son. And Yes she loved the game. Her son soon exceled in the game quicker than she did, so she joined the ladies association at Olive Glenn and golfed with the girls. She continues to love golf "most of time". She joined the WSWGA as soon as she was "of age" in 2007 and has played in every annual tournament except one (Rawlins when her daughter got a kidney transplant the day of the tournament). Carol has worked for the State of Wyoming for over 35 years. Carol has also done volunteer work for FEMA & Salvation Army for over 30 years.

Trudy M. Durfee
Secretary
P.O. Box 1033
Sundance, WY 82729

(307) 290-0270
tdurfee@wswga.org
Term Expires: 2023




Trudy has been a member of the WSWGA since 2012 and has since played in all of our annual tournments. She is a member of the Sundance CC.

After 36 years as a bank officer at Sundance State Bank, Trudy retired and is currently the Chairman of the Board. She has been in a committed relationship with Mike Schubarth for 17 years and has two children: Hayden Johnston, 29, and Sheridan Schubarth, 15. She loves to golf, craft, weld and travel. In April, 2020, she will join good friends on a tour of Scotland and Ireland, a dream trip for her. She is looking forward to seeing St Andrew's and to making new memories.

She has met many kind and fun ladies through the WSWGA tournaments and she is hoping many of you will have that same experience.

Mishelle Aldrich-Davis
P.O. Box 635
Thayne, WY 83127

(916) 275-9742
mdavis@wswga.org
Term Expires: 2024



Bio Not Available

Cathy Toolson
1060 Cedar Creek Dr.
Star Valley Ranch, WY 83127

(307) 690-2488
ctoolson@wswga.org
Term Expires: 2024




Bio Not Available

Randee Jesperson
306 E. Tonk St.
Gillette, WY 827718

(307) 290-0270
rjespersen@wswga.org
Term Expires: 2024




Bio Not Available

Brenda K. Stutheit
885 Fleming Blvd
Sheridan, WY 82801

(307) 388-2712
bstutheit@wswga.org
Term Expires: 2023




Bio Not Available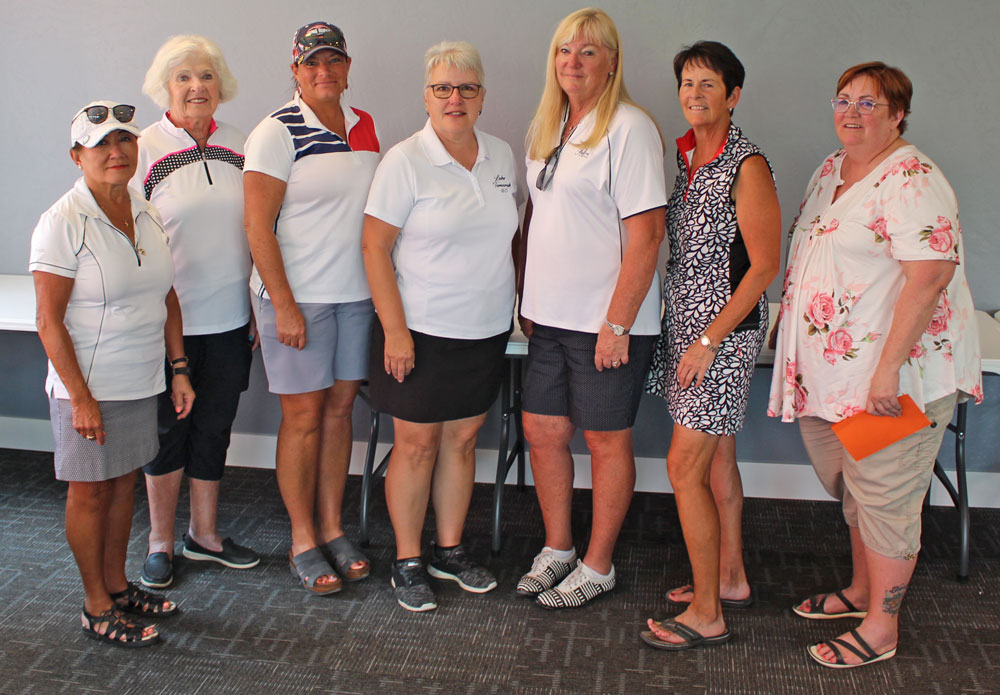 Board Group Photo Taken 7/15/2021
---
Ex-Officio Board Members
Our Ex-Officio Board Members play an important role to the Association by providing continuity over the years in certain necessary and required administrative duties. They are appointed by the Board and their tenure is permanent or until she resigns her position, ceases to be a Member or the Board votes to replace her. Unless they are an elected board member, they are not eligible to vote at Board Meetings, but are encouraged to participate in all meetings of the Board.

Please see the Section 4.04 of the By-Laws where the duties and responsibilities of the Ex-Officio Board Members are detailed.

Falinda R. Hall
Registrar
28 Sunrise Road
Cody, WY 82414

(307) 527-6889
fhall@wswga.org


Falinda was born and raised on a farm/ranch in Malta, Montana. After graduating from high school, she attended Montana Tech in Butte graduating with degrees in Petroleum Engineering and Geological Engineering. She spent 35+ years as an engineer/manager with Marathon Oil Company before retiring in 2015. In late 2015, Falinda embarked on a second career working for a Title Company in Cody. Falinda and her husband raised two daughters, Kelsey and Elizabeth, and they have 3 granddaughters and 2 grandsons. Falinda joined the WSWGA in 2007 and has played in each of the annual tournaments since then.

The WSWGA is a great group of ladies and I have enjoyed the annual tournaments and meeting and playing with new people from around the state.
---
Previous Board Group Photos



2018-2020

2017-2018

2015-2016
&nbsp

2014-2015
2013-2014
2012-2013
&nbsp
2011-2012
2010-2011
2009-2010
&nbsp
2008-2009
Go To Top Of Page